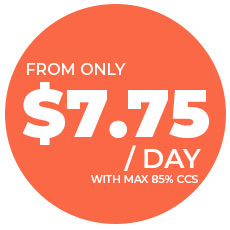 If you are unsure on what to do with the kids during the school holiday period, why not book them into our Kids Holiday Program!
Our School Holiday Program is also CCS APPROVED* making your child's holiday fun more affordable.
All children receive a FREE BlueFit Kids hat, water bottle and wristband on their first day!
We have a variety activities for the children to enjoy including bowling, movies, arcade, swimming and most importantly…The Water Slide and The Inflatables.
The January holiday program schedule will be launched soon.
Week: Monday 16/12 to Friday 20/12
Week: Monday 23/12 to Friday 27/12
Week: Monday 06/01 to Friday 10/01
WEEK: MONDAY 13/01 TO FRIDAY 10/0117
Week: Monday 20/01 to Friday 24/01
WEEK: MONDAY 27/01 TO FRIDAY 31/01
Please Note:
All Prices are before CCS calculation/adjustments.
Breakfast will be provided: 7:00am to 8:30am.
Afternoon Tea will be provided: 3:30pm.  (Estimated time)
Lunch will need to be provided unless stated otherwise.
Children will need to bring their own towel on all swimming days. (If they choose to swim)
Due to this program being at an Aquatic Centre, some of the activities will be in the pool. If your child can not swim more than 25m please indicate on the enrolment form
Active kids vouchers are not able to be redeemed for vacation care. Active kids vouchers can only be used for sports programs such as our Swish Basketball, Strike Football, Gymnastics, and Dance classes.
FAQ's - PAYMENT AND BOOKINGS